Muay Thai Classes
Ground Control has one of the highest regarded Muay Thai programs on the east coast. It's no secret that kickboxing will burn serious calories and give you an amazing sweat. Learning real self defense skills and killing major calories has made Muay Thai kickboxing one of the most popular forms of exercise.
Don't worry, we will not make you spar or compete if you don't want to.
Come learn real striking skills from some of the top instructors around and get in great shape! To learn more about Muay Thai Classes, contact us here.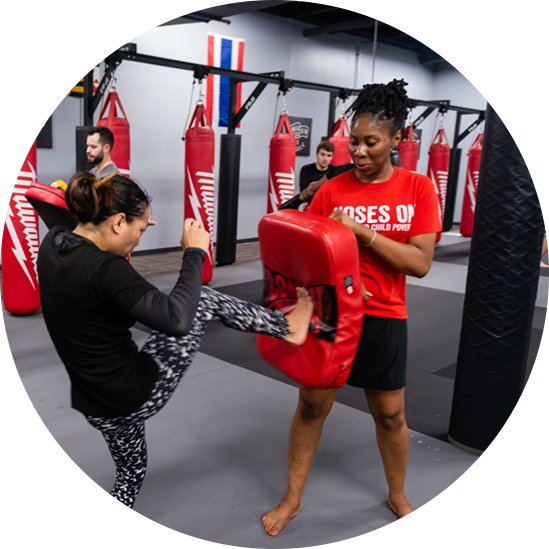 Muay Thai History
Muay Thai, sometimes referred to as "Thai boxing", is a martial art and combat sport that uses stand-up striking along with various clinching techniques. This discipline is known as the "art of eight limbs" as it is characterized by the combined use of fists, elbows, knees and shins.
Kickboxing is a group of stand-up combat sports based on kicking and punching, historically developed from karate mixed with boxing. Modern day kickboxing is said to be an evolved version of Thailand's martial art form Muay Thai.
The national sport of Thailand, Muay Thai became widespread internationally in the late-20th to 21st century, when Westernized practitioners from Thailand began competing in kickboxing and mixed-rules matches. Today we see Muay Thai's heavy influence in Mixed Martial Arts (MMA) with many of the sport's prominent athletes attributing their success to a strong Thai striking base.

Have A Question?
Ground Control – Baltimore Academy
8303 Pulaski Hwy, Suite B, Rosedale, MD 21237 | (410) 340-5925